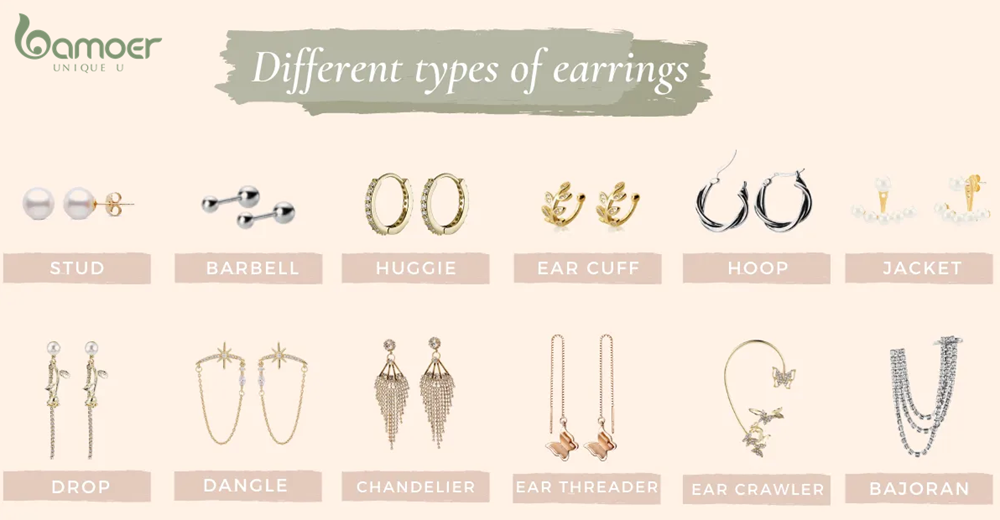 From petite fruit stud earrings to long tassel dangle earring, the right jewelry match can always uplift your look. Tired of dressing in the same way? Still can't find the right earrings set that matches your outfit? Still can't figure out which style of earrings to buy for your friend? Now Bamoer offers you the best in-depth guide of earrings with pictures. They can definitely bring out your charming, and know well about different types of earrings for sure.
Earring Types: Stud Earrings
The stud earrings feature an ornament floats on the earlobe. Bamoer has different types of studs earrings for you to choose. From simple pearl stud earrings to sparkling gemstone earrings, they are as shown in the picture below. There are also various types of ear studs decor, with various natural and animal elements like mermaid, small daisies, and roses etc. Pretty earrings can always increase your playful appearance. Of course, for elegant women, we have wide options of pearl stud earrings. Simple and generous pearl ear studs in gold vermeil silver will highlight your outlook.
Style Tips: This simple stud earrings is suitable for any style and any scene. It is a very practical earring in everyday wear. Simple pearl stud earrings in gold can add an elegant touch to your everyday clothing.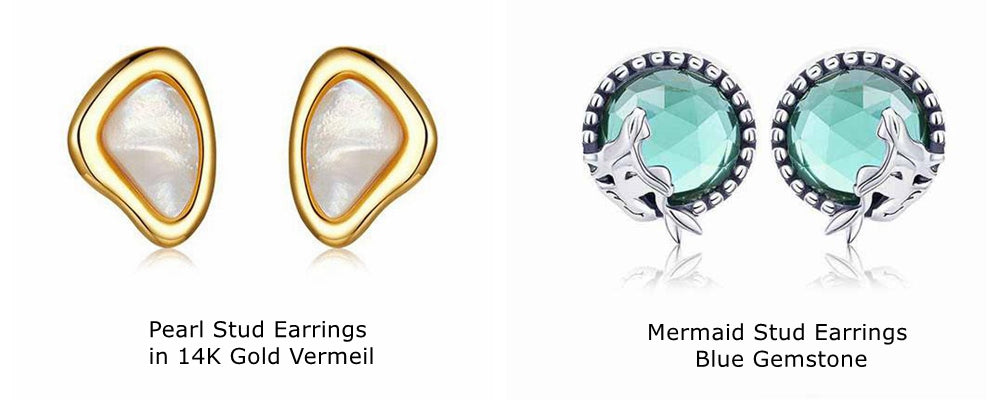 Earring Types: Drop Earrings
As name suggests, drop earrings are earrings "drop" below the earlobe. It attaches to the earlobe with attachments like gemstones. Bamoer drop earrings ornamental parts are various like snowflake, lemon, bee, fishtail, and star. The ornaments usually don't move.
Style Tips: Wearing lightweight drop earrings, you can stand out from the crowd for sure. You can take afternoon tea or a lunch date with your besties. When exploring Bamoer drop earrings, there are many types of gemstone earrings and sterling silver earrings here!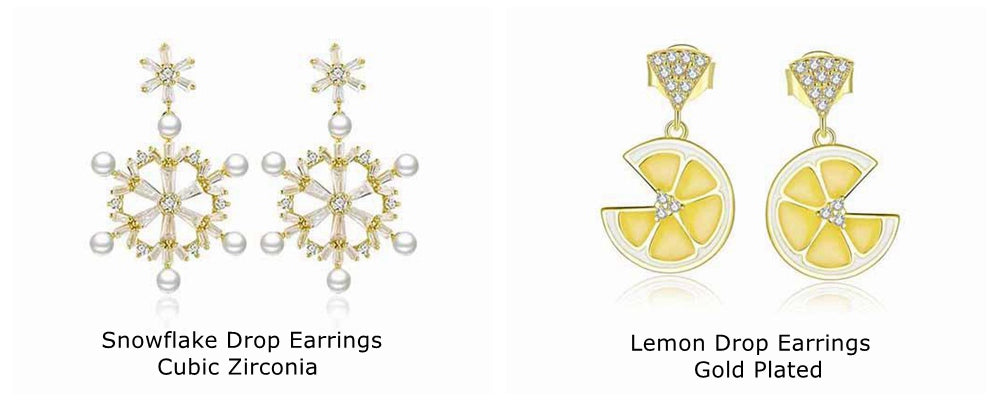 Earring Types: Dangle Earrings
The dangle earrings have longer dangling elements, which can sway below the earlobe. There are all types of long tassel dangling earrings with gentle lines. Brushing against your shoulders, on Bamoer, all stylish dangling earrings are available.
Style Tips: All kinds of long tassel earrings, single strand long earrings, gemstone earrings set will be a good choice for you. When you go to bars, nightclubs, and cocktail parties, it will be a perfect match with your sexy dress, gown or off-the-shoulder clothes for amazing effect.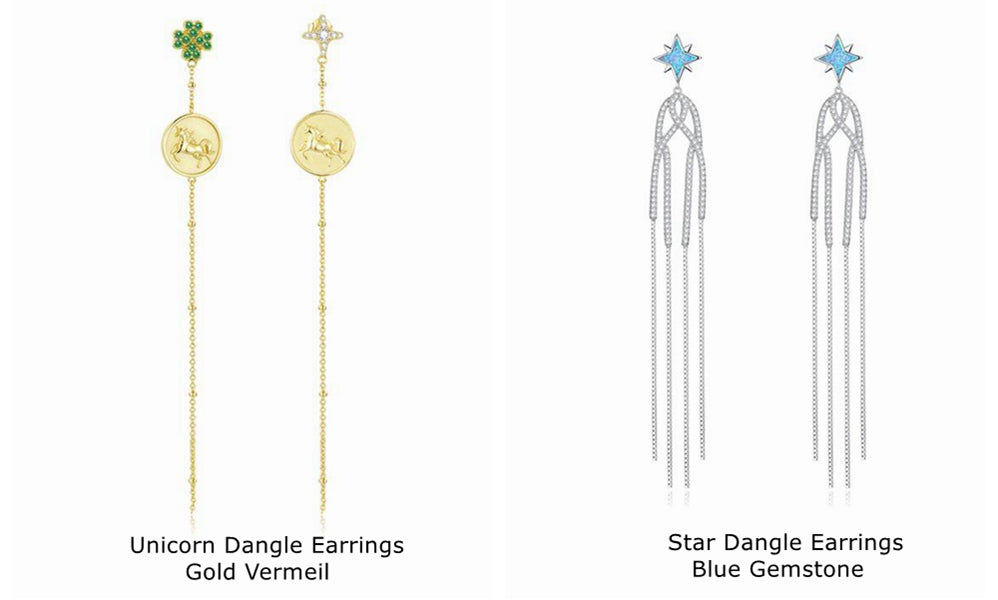 Earring Types: Hoop Earrings
Hoop earrings are like ring-shaped earrings with a round design. They are different and have traditional pattern designs. Bamoer has hoop earrings designed for small animals like elephants, mice, etc., as well as large colorful geometric earrings.
Style Tips:Many women like those ring-shaped earrings, which are suitable for casual and party outfits because they fit well.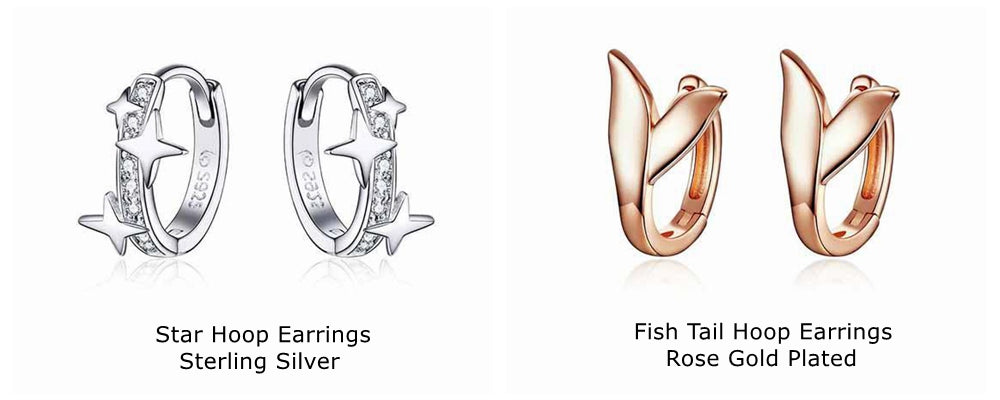 Earring Types: Ear Cuff
Ear cuff, or clip-on earrings, can imitate the appearance of multiple ear holes and stick to them like cuffs. It is a good choice for new style earrings for fashionable women. Bamoer provides you with custom ear cuffs, you can mix and match at will. In addition, women who do not pierce ears can also wear it.
Style Tips: Bamoer offers fashionable serpentine ear cuffs, or classic pearl series. They can elevate your look to cutting edge style.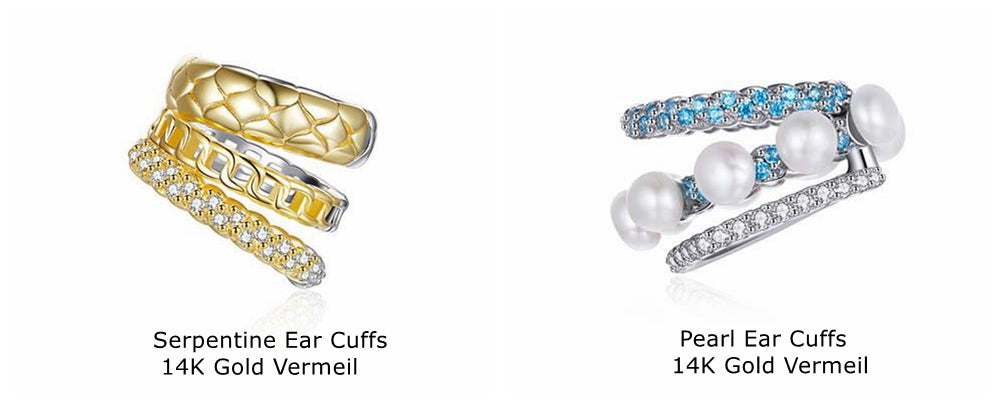 In addition to those traditional and classic earring styles, with the continuous pursuit of beauty, more novel and avant-garde earring styles have appeared. For those fashion-forward outfits, the following earring styles are innovative and unique.
Earring Types: Huggie Earrings
As the name suggests, huggie earrings describe earrings hugging the ears tightly. They are smaller and thicker than hoop earrings with circular shape. Besides, huggie earrings leave very little space under the earlobe. They look like rings with a thin metal piece connecting together.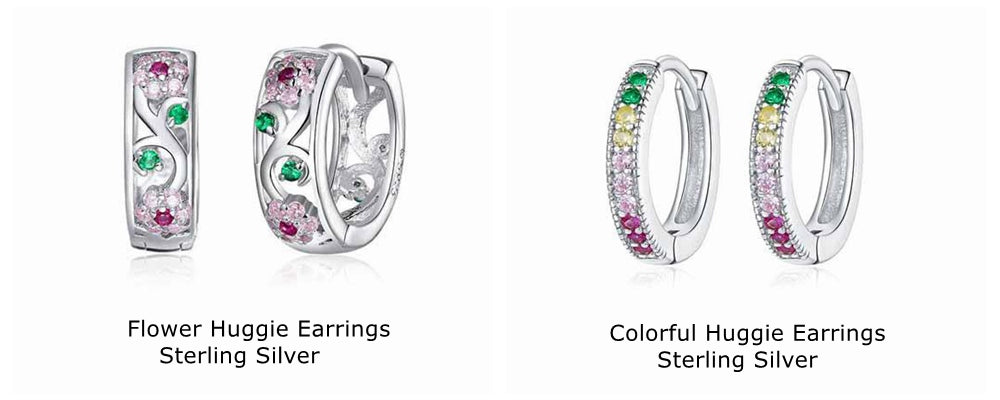 Earring Types: Mismatched Earrings
Mismatched earrings have similar styles, but usually have slightly different designs. Show your little personality and lead a modern trend. Bamoer has many designs, such as the swallow dangle earrings set below. One swallow holding a pearl, the other three swallows arranged in line with shell beads together. It adds a little bit of fun and unique design.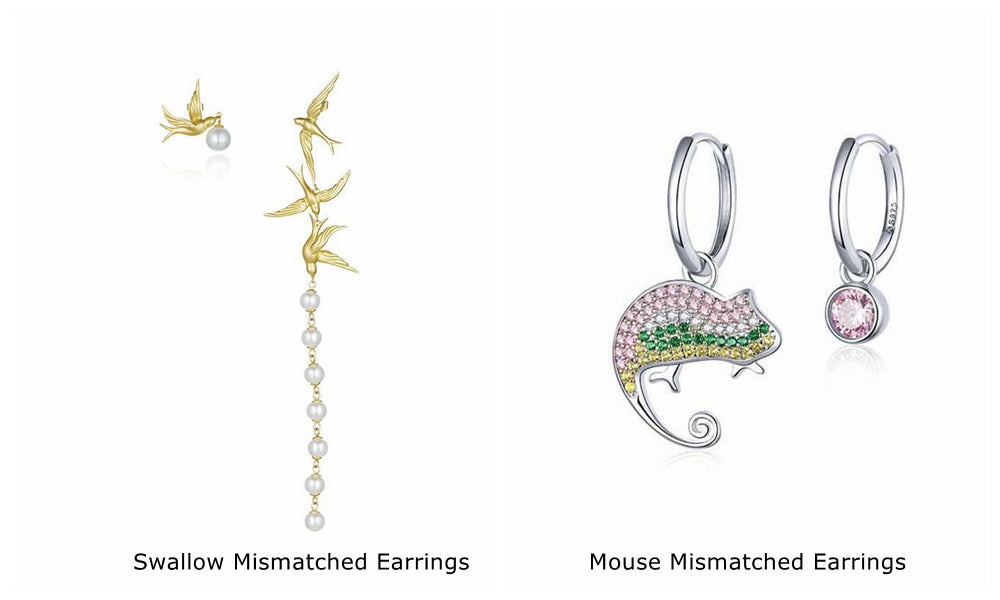 Earring Types: Tassel Earrings
For those women who like long tassel, tassel earrings are a good choice. It can lengthen your neck visually and increase beauty. Any kind of dress, and long tassels will be a good match.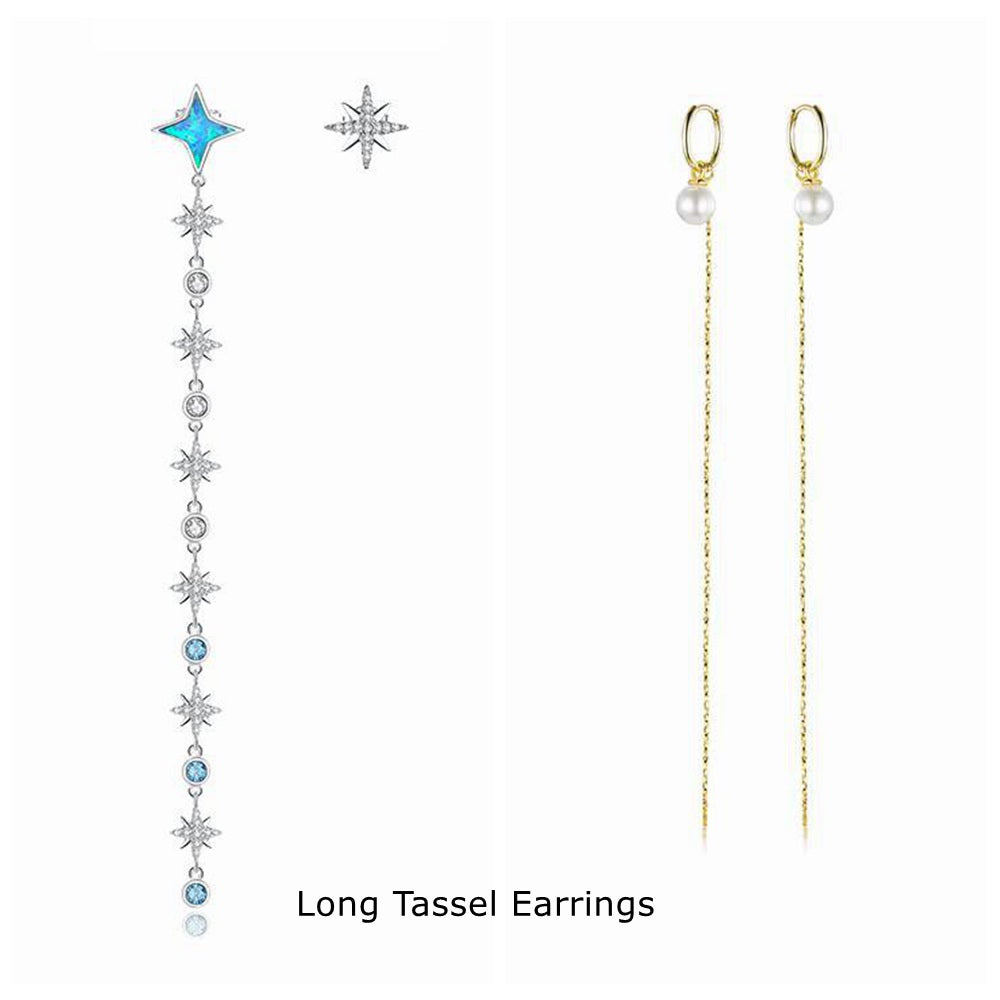 Earring Types: Earring Jacket
Earrings jacket consists of a basic stud at the front of the earlobe, and a more sophisticated design at the back. The "jacket" perfectly wraps around your earlobe, adding sparkle and beauty.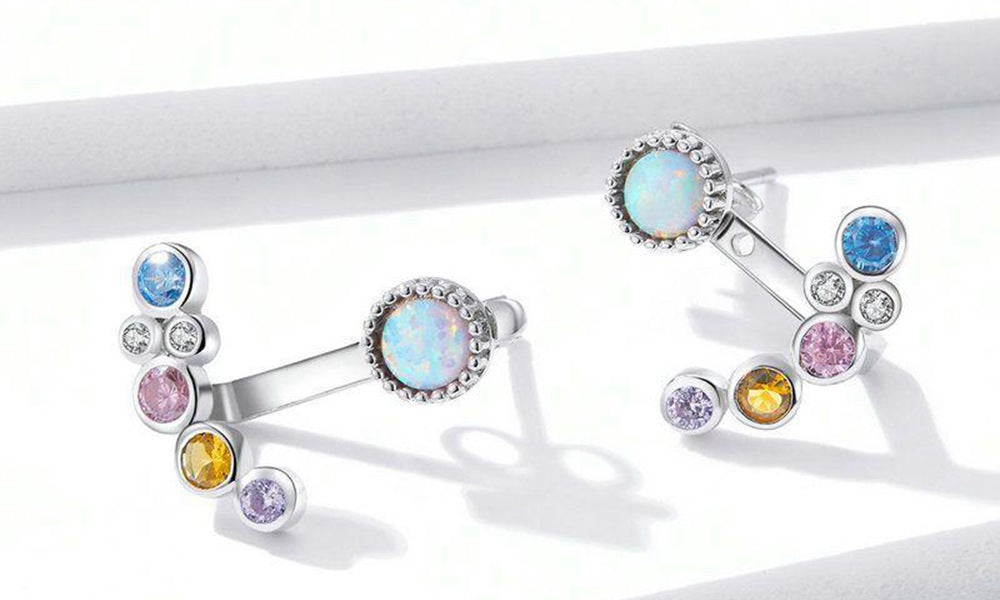 Earring Types: Threader Earrings
Earring lines or threader earrings features a thin chain that passes through the ear hole hanging at both side of ears. Usually, the bottom of a streamlined chain has ornaments swinging. For example, Bamoer colorful zircon threader earrings and red earring lines with Chinese element house design.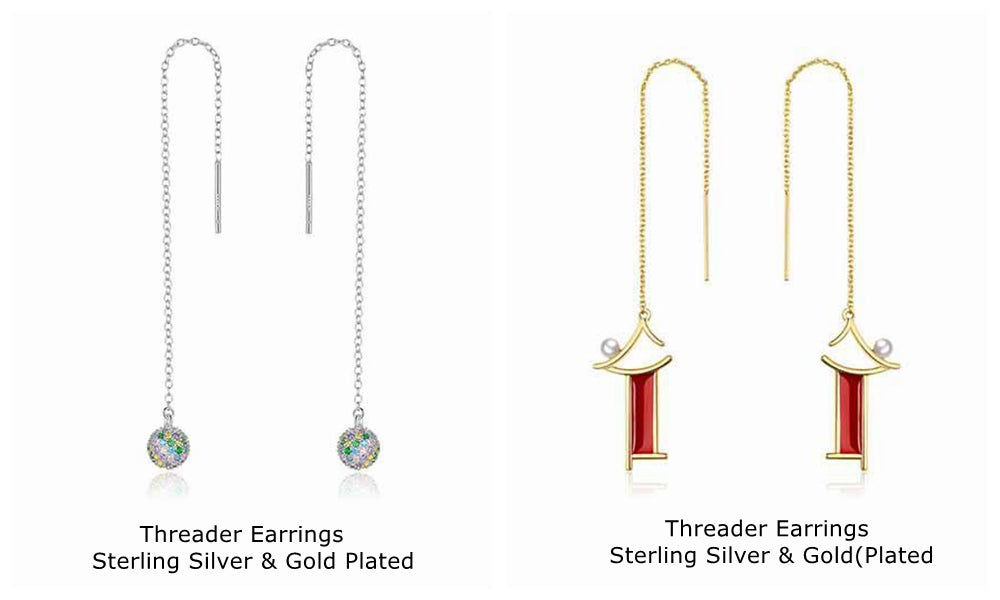 Whether it is traditional earrings set or new style earrings, Bamoer can always lead the trend in the jewelry industry. Our designers are ingenious, trendy, and fashionable. Come and tell us your favorite style! Comment below and contact us for a certain discount.